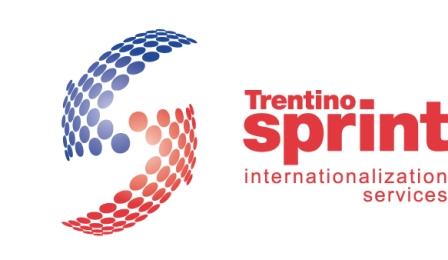 Trentino Sprint
Trentino Sprint is a consortia company set up by the Chamber of Commerce for Industry, Agriculture and Handicraft of Trento and Trentino Sviluppo S.p.A. .
The objective of Trentino Sprint is to provide support for Trentino entrepreneurs and managers in acquiring the information, and the technical and cultural tools necessary to undertake or complete their business internationalization process, including export, trade exchange, joint-ventures, acquisitions and investments to create new companies.
Foreign Desks
China Desk

Set up by Trentino Sprint and the Italian Chamber of Commerce in Beijing, China

Russia Desk

Set up by Trentino Sprint and Promos, Special Agency of the Milan Chamber of Commerce the development of international activities

Brazil Desk

Set up by Trentino Sprint and the Brazilian Italian Chamber of Commerce of San Paolo, Brazil.
The Foreign Desks are at the service of Trentino companies providing information on the country and assistance for projects undertaken on local markets.
Services
INFORMATION SERVICES:
Financial tools and insurance services for activities undertaken on the international market provided on a local and national level;

Market trends, country-cards and sector data on foreign countries;

Documents, analyses, certifications, data for product export;

Trade fairs, major international events and cooperation programs;

Requests for collaboration from foreign companies and business opportunities abroad;

Selection and dissemination of the main news updates on international trade;
ASSISTANCE SERVICES:
Specialized consultancy on international contracts, tax regulations, customs, transports, payments, etc;

Access to databases on European economic cooperation;

Customized assistance for searching consultants abroad and structured internationalization projects;

Consultancy on making foreign trade contacts and institutional contacts abroad;
PROMOTIONAL ACTIVITIES:
Receiving trade and institutional foreign delegations;

Organization of bilateral meetings between Italian and foreign companies;

Organization of collective participation at foreign trade fairs.