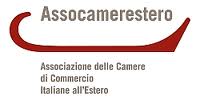 Assocamerestero
Assocamerestero is the association of the Italian Chambers of Commerce Abroad, established to evaluate and develop the Chambers activities, through increasing the level of interest and awareness on the network and its features among Italian and International institutions and business organizations.
The association:

-Represents the Chambers' requirements and their service potentiality.
-Seeks co-operation and strategic alliance with public and private entities in order to foster knowledge and use of the Chambers network.
-Synthesizes experiences and know-how acquired by each Chamber of the network.
-Promotes and circulates network programs and projects.
-Promotes and circulates updated information.
-Carries out communication actions towards Italian media, institutions and companies.
-Promotes and delivers managerial training courses.
-Assists and supports the establishment of new Italian Chambers of Commerce abroad.
-Carries out networking activities with other Bi-National European Chambers systems.
Main products/services of Assocamerestero:

Assistance and support to Italian Chambers of Commerce Abroad network:

-Assistance in solving problems related to projects of interest to one or more Chambers:
to access co-financing programs of the Ministry of Productive Activities and Unioncamere Interchamber Fund;
to establish contacts with bodies and institutions, to facilitate research of general information.
-Actions aimed at linking service organizations through frame agreements and Memorandum Of Understanding.
-Support to group of companies in founding new chambers of Commerce according to standard methods and characteristics required by the Italian Ministry of Productive Activities, and in consistence with Law no. 518 / 70.
-Organization of training sessions and professional updating courses for the chambers' managers and employees on management; development of projects for the growth of the Chambers' human resources.
-Hosting services (office, meeting rooms, secretarial assistance) to its associates during their visit to Rome, for business meetings and development of relationships with Italian entities.
-Issue of Membership Cards to all the members within the network of the Italian Chambers of Commerce Abroad, which entitle business persons to various privileges and advantages during business trips.
For more details and contacts, please visit www.assocamerestero.it